Welcome To Bryncoch Bombers Cycling
We are an amateur cycling club based in Neath, South Wales, set up by enthusiasts to firstly raise money through organised Sportives and charity rides, and secondly to encourage regular exercise amongst us. We are proud that in a relatively short space of time, our regular rider base has swelled to more than 25, and weekly rides are well supported on a Saturday morning. These pages should give you an insight into our activities.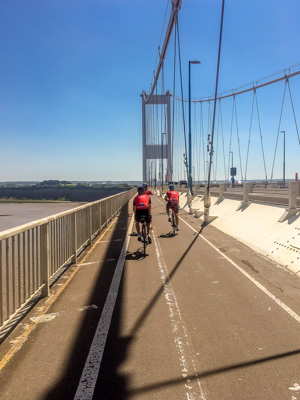 Bombers Big Day Out 2023
2023 is the 10th anniversary since the club was formed. We decided to repeat our 2018 Big Day Out ride, One Fifty 2 Severn.
150 miles to the Bridge and back, approximately 10 hours in the saddle!! The numb bums will be worth it though. So if you could spare a few pounds to support our efforts it would be greatly appreciated! this is set to take place 1st July 2023.
During those 10 years we've supported several local charities with our BDO rides... The Freya Bevan appeal, 2 Wish Upon a Star, Wales Air Ambulance and NPT MIND.
There are many worthwhile causes that need the help of volunteers and donations but this year our chosen charity is the Velindre Cancer Centre.
Money raised for Velindre helps fund ground breaking research and clinical trials, cutting edge treatments, specialist nurses, support services, therapies, equipment and so much more which are above those provided by the NHS – so donations really do have a significant impact on patients and their families
Individual Sponsorship Form
Just Giving Link